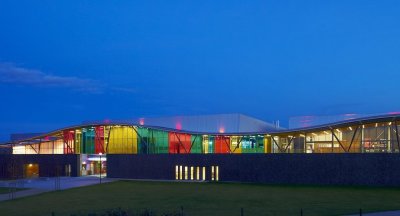 Armandie Stadium & Agen Omnisports - 4 km from the hotel
Whether you are an amateur, a professional or a spectator, you will feel welcome at the Agen sports facilities.
Your Hotel in Agen near Armandie Stadium & Omnisports Centre
Enjoy the thrill of your favourit sporting events in Agen with cheap accommodation close to the Armandie Stadium and the Jacques Clouché Omnisports Centre.
5 minutes by car from the hotel, to the north, stands the Armandie Stadium. The stadium was named after the founder of the SU Agen, Agen's famous Rugby Club. The home grounds of SU Agen can host up to 14,000 Rugby fans. However, it has also been known to open for other disciplines, like it did in June 2017 for the Supercross.
You can access the Jacques Clouché Omnisports Centre by car in 8 minutes. It has the capacity to host more than 2,000 supporters. And regularly hosts international competitions in disciplines such as : basque pelote, tennis, gymnastics, and French boule as well as full-contact sports.