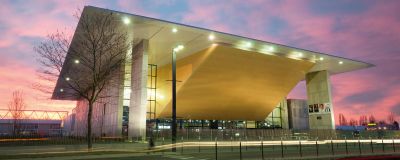 Agen Exhibition Park - 350 m from the hotel
The Agen Exhibition Park is located just 350 metres from the Hotel du Lac.
The Congress Centre and the Agen Exhibition Park
The Agen Centre of Congress and the Exhibition Park host the region's most attractive professional, cultural, gastronomic, and well-being events.
Both are located four minutes away by foot from your hotel. Together these venus enjoy 7,000 m² of exhibition floor. They are both managed by Agen Expo Congress and receive more than 150,000 visitors, every year or the Agen Trade Fair, le Printemps de la maison, Agen Expo Forain, les Journées Grand Âge or les Journées du bien-être.
So if you are participating or visiting at one of these events, be sure to book the closest Hotel to the Agen Expo centre, the Hotel du Lac